Are you an island goer? Looking to bring your work with you to a unique and remote place you have never been before? Thinking about breaking out from your daily routine and the stress of living in the big city? Well, we invited James, who's been living in Japan for 12 years and currently works in the greater Tokyo area, to come to Kozushima on a workation and to share all his experiences!
Though Kozushima is often recommended as a stop on your Japanese island hopping adventures, you would be mistaken if you thought that Kozushima is only good for relaxing and slacking off. If you stop and consider that about 1,800 people are living on this island all throughout the year, there is absolutely no reason in the world that you couldn't do just the same! Not only does Kozushima provide rich and glorious nature, a crystalline cobalt ocean, mountains to climb, gorgeous white sand beaches to tan on, breathtaking starry skies, and the most delicious water in the country to drink, it is also offers everything one needs to live, work, and play to their heart's content!
In fact, since Kozushima is merely 45 minutes away by plane, I took an opportunity and went on a "workation" for about a week, and being the island maniac that I am, I enjoyed it a great deal. Let me explain why.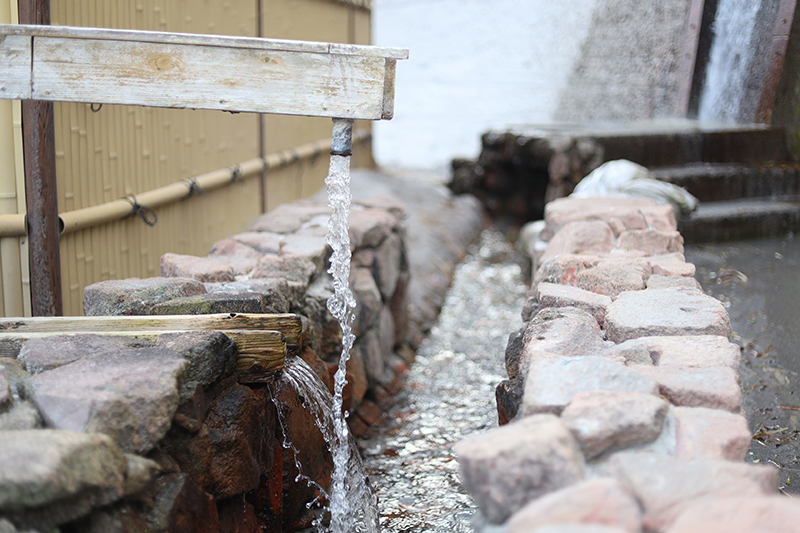 Surprisingly convenient
First and foremost, the surprising lack of inconveniences. Approximately 98% of my blood is made of coffee, so it is vital that I have multiple cups a day. This is something that I often worry about when I go out for work or travel, and I especially worried about this prior to coming to Kozushima. But guess what? There is coffee available on the island as well! And what's more, it's exceptional. I ended up staying at a place called Familia, a local B&B on the island, and it just so happened that the lovely Ayano-san and Ken-chan, the owners of the place, run a cafe on the first floor of their joint! With WiFi flowing through the air, and a nice cup of some of Familia's coffee made with Kozushima's godly water, I found no intrusions while on the job and was able to easily work where I was staying. With public WiFi available in certain parts of the town, I was even able to work directly on the beach!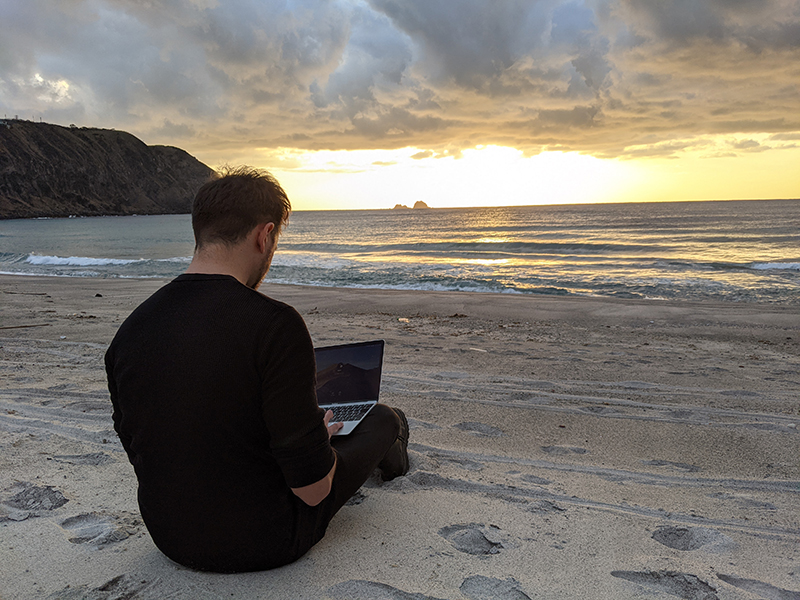 But it doesn't just end there. From breweries to pizza parlors and burger shops, there are a surprisingly wide variety of places to enjoy! You want to crack open a cold one after a productive day of work? Head on over to Hyuga Brewery and try out their variety of beer. Craving some freshly prepared sashimi? Walk on over to Yamacho and enjoy some with your newly made local island buddies. Want to chow down on some delicious Japanese food after relaxing in the hot springs? Walk on up to Kozushima Hot Springs and Sabisaki Restaurant. This island has anything and everything you could possibly need! You can even use Amazon Prime delivery, so you can get that fuzzy Pikachu pajama suit that you've been eyeballing since last month delivered directly to your room! And to top it all off, the island is relatively accessible, with ferries and planes frequently coming to and leaving the island on a daily basis. If the need to return to the greater Tokyo area comes up, you can always catch the next flight or ferry out!  I would have to say the only true inconvenience I encountered was a lack of a gym. But even so, there is a kind man on the island who has weights and machines that he lets the locals use!
The peace and quiet
Secondly, it is so quiet! It can be tremendously mentally draining to live among the hustle and bustle of the city. With far fewer people around you, no trains zooming through the town, no police sirens going off at random hours of the day, nobody knocking on your door from time to time to see if you have a TV or not, and no never-ending lines of cars flying down the roads, the peacefulness of this quaint yet gorgeous island was pure bliss! It had been so long since I felt I could really focus on what I needed to get done.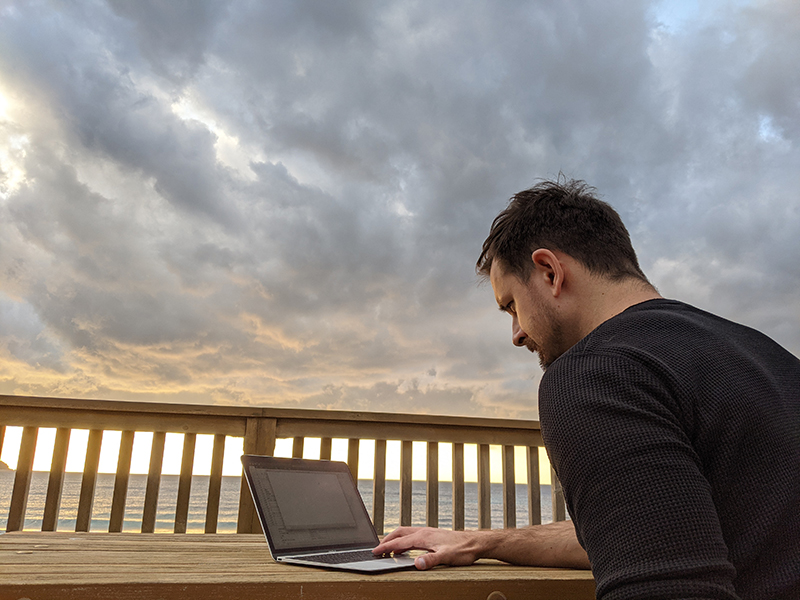 Not once did I have to reach for my noise canceling headphones just to focus on my video editing assignment (Amazon, I think I'd like a refund). With the exception of rainy and windy days, the only potential "noise" on the island would be the ferry sounding its horn as it makes its way into the port (which I honestly loved), and the chit chat that you will engage in with the friendly locals when they greet you or stop by for a visit.
Lots of fun things to do
Last, and certainly not least, would be the amazing things you can do on your breaks and off time. For example, say you have a writing assignment and you are waiting for feedback. Your boss Slacks you saying, "Sorry, it is going to be about another three hours till I can get back to you." Well guess what you could do for three hours while waiting for them to dot your i's and cross your t's? 
Chichibuyama
If you felt like it, you could go for a nice quick hike up Chichibuyama over on the east side of the island!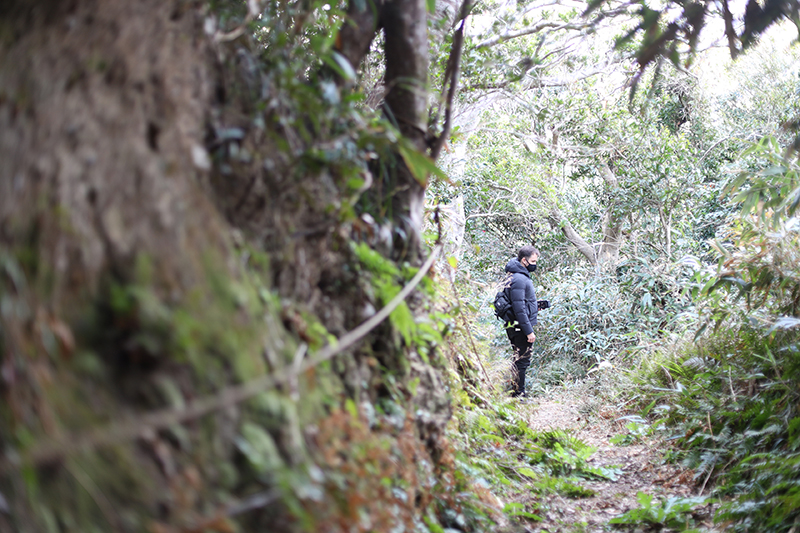 Chichibuyama is a very easy hike that you could finish in under an hour! At the top, you will come to an opening that offers a wonderful view of both Mt. Tenjo and Tako Bay! On your way back down, you could head on over to the island's ever so popular Nora, a Japanese restaurant that provides delicious food made with locally grown vegetables and freshly caught fish! Just be sure to make a reservation with Nora before you depart!
The West Coast
The west coast of the island offers an outstanding oceanfront walking path leading directly to and from town, and is home to the island's very own natural hot springs.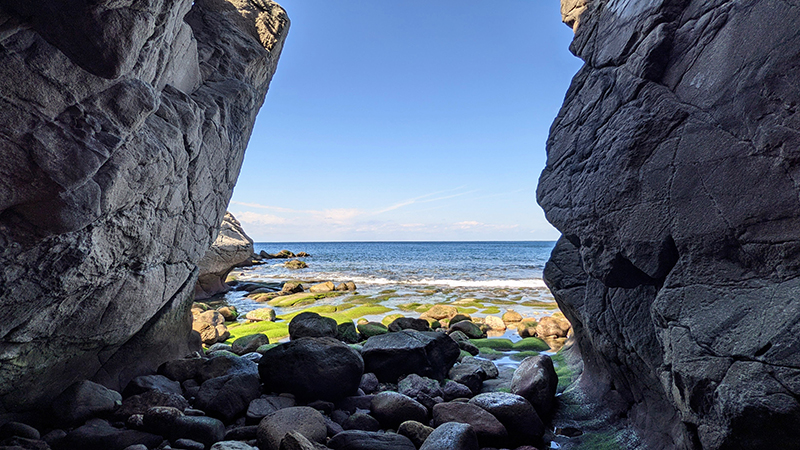 You could ride your bike up to Nagahama Coast, or even further, to Akasaki Promenade and take a swim if you felt like it! Places to stop by and enjoy on your way up and down are Akasaki Promenade, the minecart ruins, Tatamigahana Rock, Nagahama Coast, Awanomikoto Shrine, Buttoshi Rock, and Kozushima Hot Springs.
The starry skies
And the wonders of Kozushima don't just stop at sunset. With a starry sky as captivating as this one, it is no wonder why the island has achieved official recognition as an International Dark Sky Park.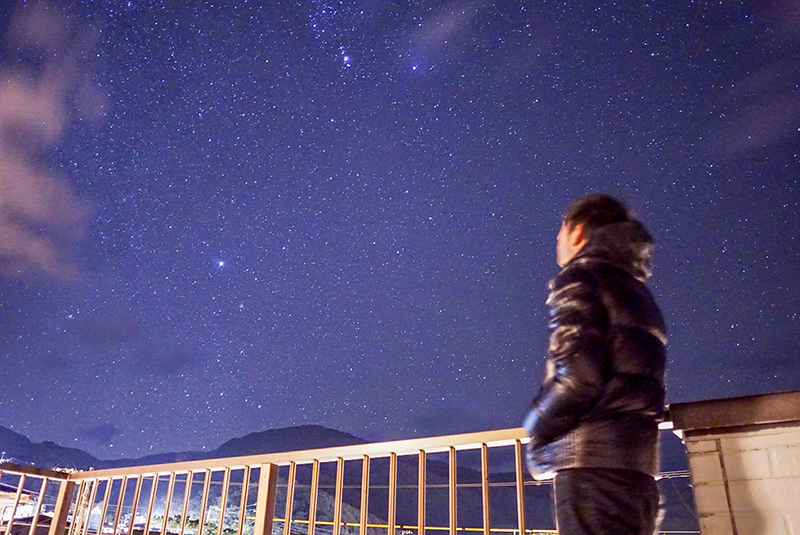 The stars can be seen on any clear day all throughout the year, and can even be enjoyed directly from the balcony from the room you are staying in. To my surprise, the view of the stars directly from Familia's veranda was quite astonishing! I can't say I have seen a clearer starry sky anywhere else in Japan! So if you get fed up with waiting for feedback on your assignment, you could always step outside and enjoy the stunning night sky in the meantime!
And if you were feeling a bit lazy or the weather wasn't its finest, you could simply just go hang out with Ayano and Ken at Familia and enjoy some of their superb cold brew coffee. The point is, there is so much great stuff around you, and whether you decide to rent a car, bicycle, or even go by foot, it's all just a hop, skip, and a jump away from most of the places you would potentially stay at.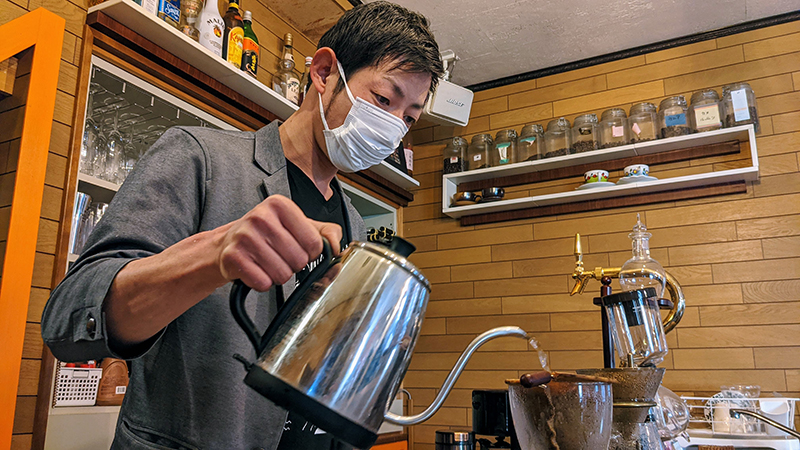 If you are someone who likes to frequently change things up a bit, adventure to new places, love the island life, or simply want to escape the hectic city stress, then I highly recommend you consider making Kozushima your next "workation" spot. With a variety of places to stay and WiFi readily available, nothing is holding you back from taking your work with you to such a godly island! I personally am already missing it and will certainly be coming back here for both leisure and another workation sometime in the near future!
About the Author
From real estate to game development and translation, James has spent 12 years living and working in the greater Tokyo area and currently works at the Japanese Visualmedia Translation Academy as a video creator. Whether it be video games or the gym, natto or sushi, he loves anything and everything Japanese.

04992-7-5981


Kozushima 1005


info@familia-family.com


https://www.familia-family.com/home
Instagram: https://www.instagram.com/familia_kozu/?hl=ja
Facebook: https://www.facebook.com/familia.kozu/
Twitter: https://twitter.com/familia_kozu

04992-7-5335


Kozushima 139-2


Google Maps


https://kozushima.com/shop/hyugabrewery
Facebook: https://www.facebook.com/Hyuga-brewery-1626260377681468/

04992-8-0332


Kozushima 347


Google Maps

04992-8-1211


Kozushima, Sabisaki 1-1


Google Maps