One of the great things about Kozushima is how easy it is to get there—3 hours 45 minutes by jet boat or only 45 minutes by plane! You can also be a romantic and take an overnight ferry to truly savor the journey. Of course, getting there is only half the fun—you need to find your way around the island itself. Check our guide to figure out the best way to reach Kozushima and navigate it during your stay.
Getting to the Island
You can get to Kozushima via plane, large passenger ferry, or hi-speed jet ferry. While your only option by plane is from Tokyo, there are also ports in Takeshiba, Tokyo and Shimoda (Shizuoka Prefecture) that offer alternative means of transportation multiple times throughout the week.
Large Passenger Ferry
There is a ferry that departs Tokyo almost every evening at 22:00. Depending on the type of room you reserve, round trip fare to Kozushima can cost anywhere from 12,060 to 33,780 yen. Carry-on items and any baggage with measurements that do not exceed a total of 120cm (length + height + width) or a total weight of 20 kilograms, are free of charge.
Please note that depending on the day, the ferry may either arrive at Kozushima Port or Tako Bay. Please be sure to arrange any pick-up services accordingly with the owner of the place you will be staying, or plan to arrive at either port.
For more details on baggage restrictions, please refer to the following website:
https://www.tokaikisen.co.jp/en/baggage/largeship/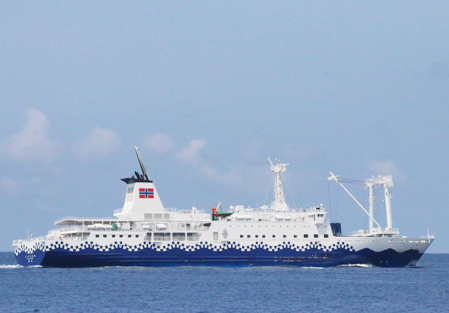 Hi-Speed Jet Ferry
In addition to large passenger ferries, you can also take something called a hi-speed jet ferry. These jet ferries depart from either Tokyo (often at 8:30 and 8:50 in the morning) or Kurihama, Kanagawa Prefecture:
Tokyo (Takeshiba) ~ Kozushima—approximately 3 hours and 45 minutes

Unlike the large passenger ferry, these are not necessarily available to take every day. In fact, the schedule can vary depending on the week, and even the month, so we advise you to check the official website for more details: https://www.tokaikisen.co.jp/en/time_price/guide/
For more terminal information, please refer to the following website: https://www.tokaikisen.co.jp/en/boarding/terminal/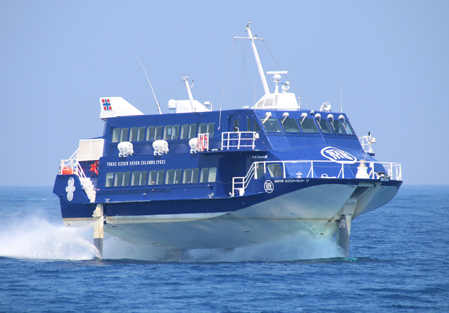 Plane
There are two to three flights to and from the island daily. Round trip flights cost 26,100 yen, and all flights need to be reserved via phone. Five kilograms worth of baggage is allowed per person, with an additional charge of 260 yen per every kilogram thereafter. Please note that you must be checked in no later than 30 minutes prior to takeoff.
For more information, please refer to the New Central Airservice website:
https://www.central-air.co.jp/en/index.html