Kozushima may be a small island, but it has plenty of shops that will sure come in handy if you need to stock up on snacks, buy some medicine, or get a few drinks to take with you to the beach. You won't be disappointed with the souvenir options either, since they have everything from unique seafood snacks to cute beach sandals. Check out our list of recommended shops as well as fishing and diving equipment rentals, WiFi hotspots, and ATMs.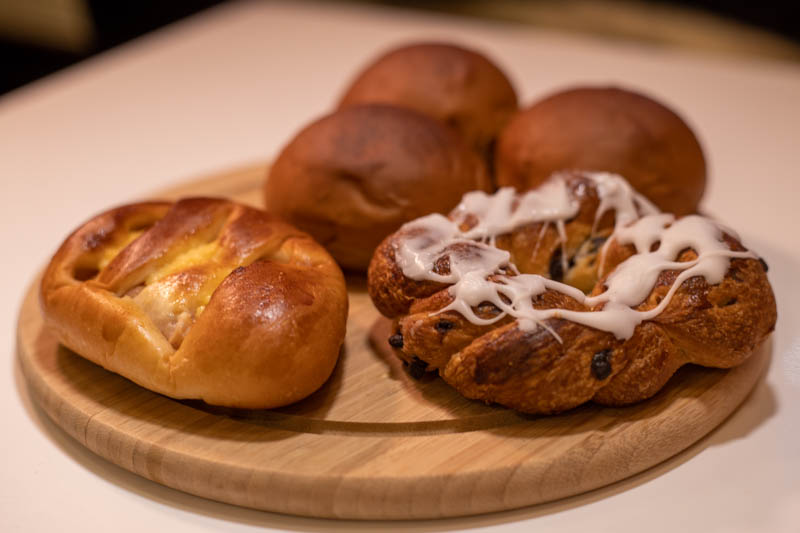 Fujiya Bakery
If you need a quick snack or something to bring with you on a hike, make sure to stop by Fujiya Bakery. They offer a great selection of bread and pastries, as well as drinks. We recommend the curry buns, the hot ham sandwiches, and the cheese and egg hot sandwiches in particular!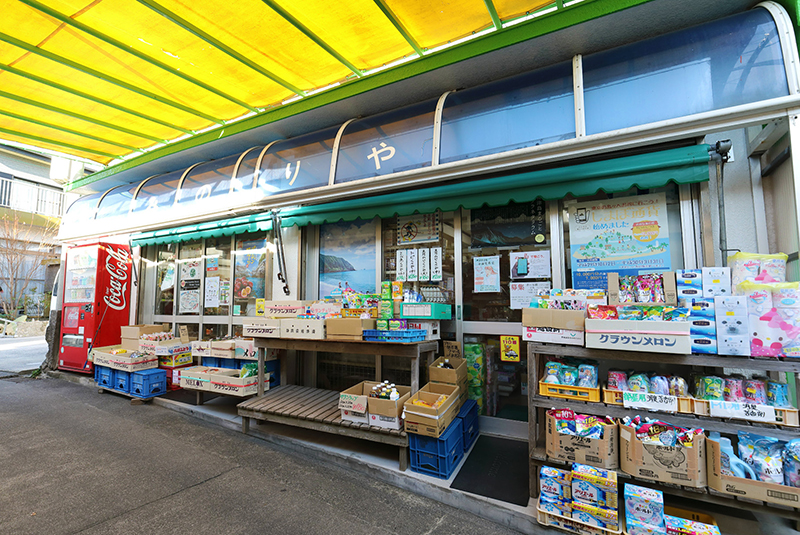 Minoriya
From food to miscellaneous goods, you will likely find what you're looking for here. What's more, Minoriya is a great option since it is easily accessible and it's one of the few stores on the island that is open all throughout the year!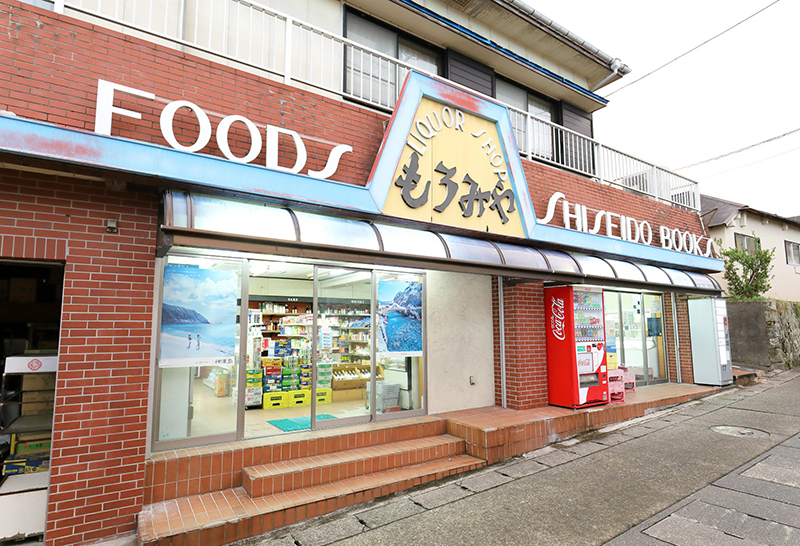 Moromiya
Not only is Moromiya a great option for food, snacks, and miscellaneous goods, but you can also enjoy delicious bentos made with local products that change every day! For those old enough, they also have a variety of cigarettes and alcohol to choose from.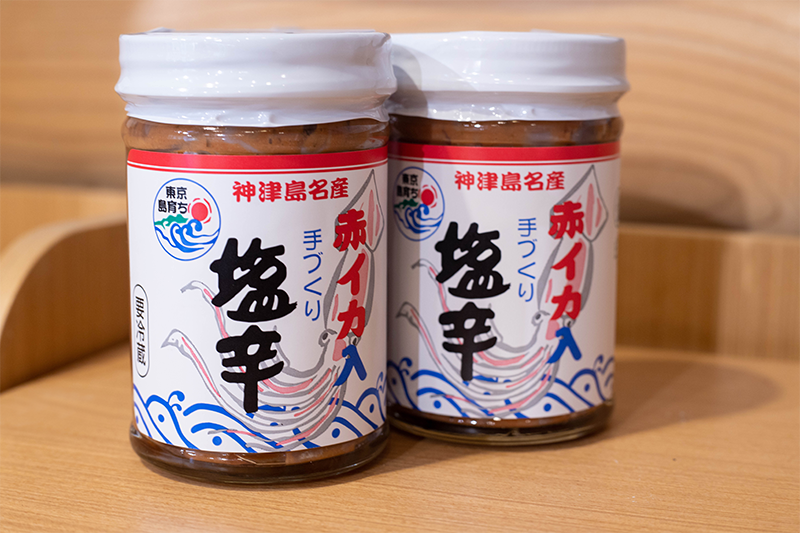 Marukin
Marukin is a specialty store that sells something called shiokara, which is a type of fermented Japanese food made from squid. But not just any squid, they make it from red squid, a unique subspecies found in the waters surrounding Kozushima! Shiokara goes extremely well with alcohol and Japanese sake, so if you are feeling up to the challenge, why not give some of their shiokara a shot?! Because who knows when the next time you'll encounter some red squid will be…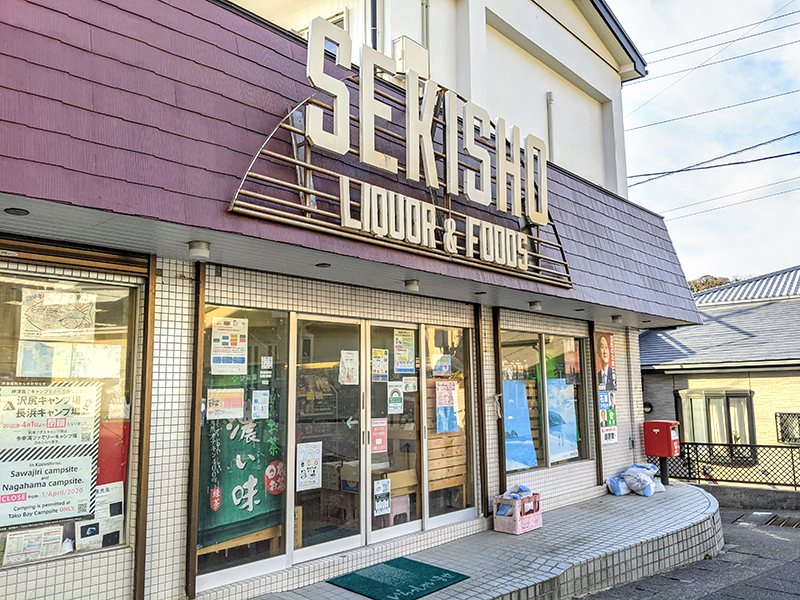 Sekisho
Here you will find a variety of food, snacks, alcohol, local Kozushima products, miscellaneous goods, as well as shoyu meshi—a very simple but tasty Kozushima-style rice ball that the locals love to eat! You can also rent videos, buy postage stamps, send Yu-Pack parcels, and even use the post box right outside the building.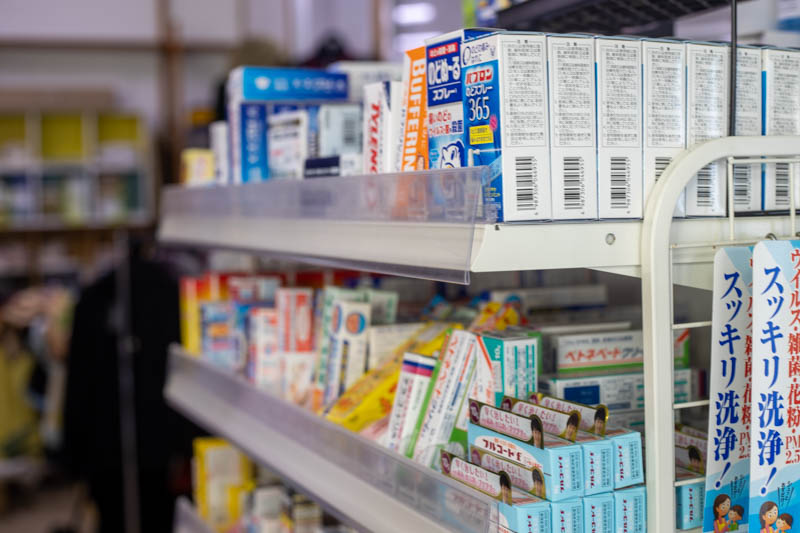 Matsumura
Have a sore throat? Allergies bringing you down? Need band-aids to take along with you on your Mt. Tenjo adventure? Then you best stop by Matsumura, the island's very own local drug store. Their certified pharmacist will also be able to assist you if you feel you are coming down with something a bit more severe!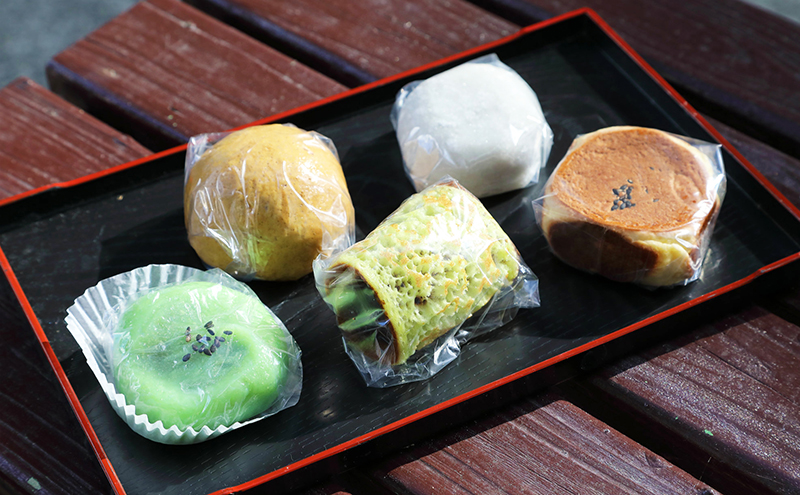 Nakatoyo
The island's sweets shop, bringing to you at least five different Japanese and Western sweets every day! If you just get that sudden urge for sucrose, then you best do yourself a favor and stop by Nakatoyo to try their popular donuts!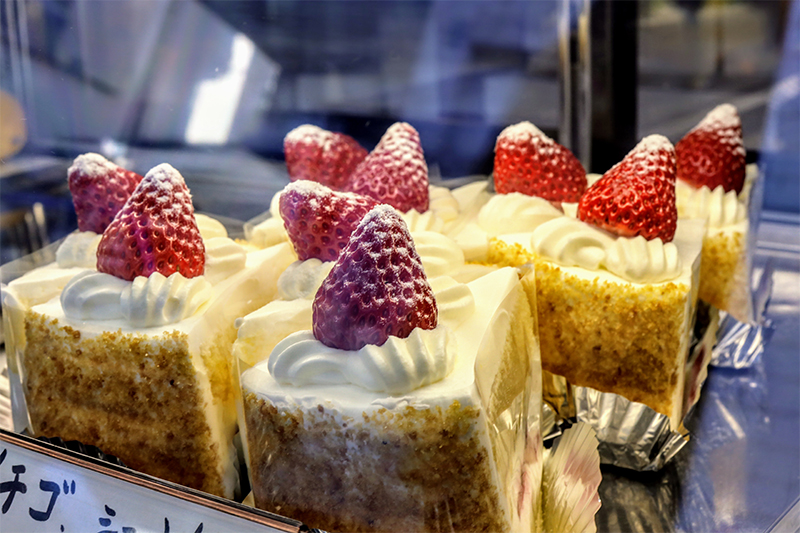 Umeya
Those of you with a sweet tooth might be asking yourselves an important question: how do I get my daily fix of sugar on Kozushima? Japanese-style sweets and buns are great and all, but what if I suddenly crave for a creamy cheesecake or a delicious sponge cake topped with strawberries? Well if that's the case, then your best bet is Umeya. This tiny cake shop is tremendously popular both with local schoolkids and tourists alike. They offer several types of portioned cakes and desserts as well as bigger cakes for special occasions. They only sell their cakes to go, so we recommend you take a cake (or two, or ten!) and head over to the beach to enjoy your sweet treat while taking in the cobalt blue ocean.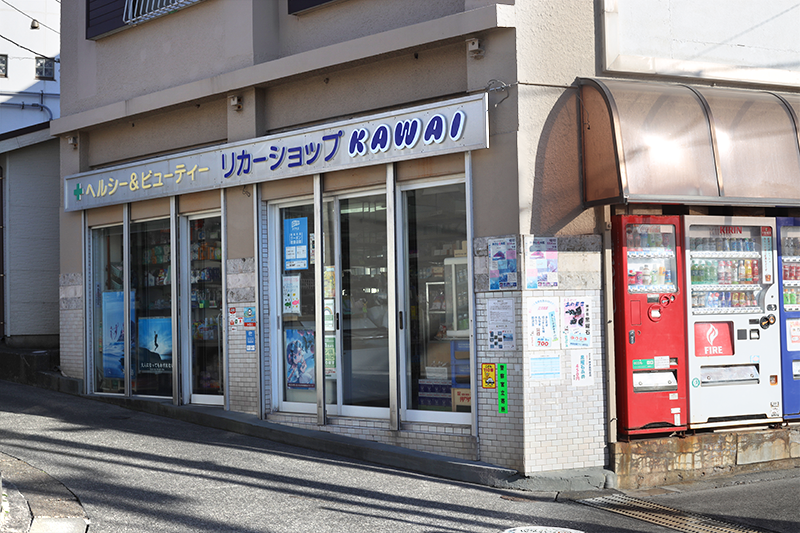 Okimiya
Okimiya is another general store which provides many useful things that tourists may need while visiting the island such as food, snacks, drinks, and over-the-counter medicine. They also keep cosmetics, miscellaneous goods, alcohol, and cigarettes in stock, and sell a variety of books written in the Kozushima dialect.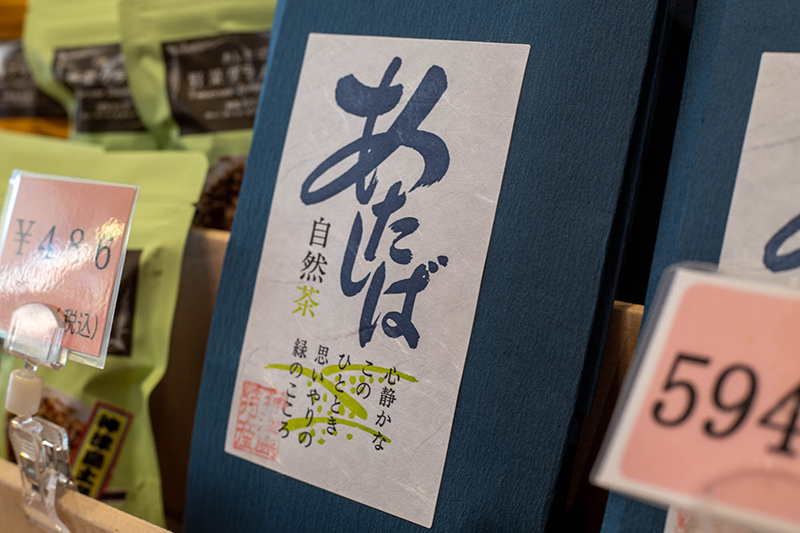 Marushima Souvenir Shop
If you're looking for an authentic, locally made souvenir or a unique snack, then Marushima should be right up your alley. They sell a wide range of local specialties like barley shochu (a type of Japanese spirit), sweets made from passionfruit or ashitaba (green leaves that are a  staple of Kozushima cuisine), shiokara made by fermenting locally sourced red squid (give it a try if you're feeling adventurous), tokoroten (a noodle-like snack made from cooked red algae), and dried local fish like kinmedai and filefish that go great with beer or shochu.
They also sell their own custom t-shirts as well as beach sandals adorned with flowers and beads—they're located right next to Maehama Beach, so check them out in case of any bead-sandal emergencies. They also accept Japan Post's Yu-Pack parcels if you wish to send a pair of sandals to your friends.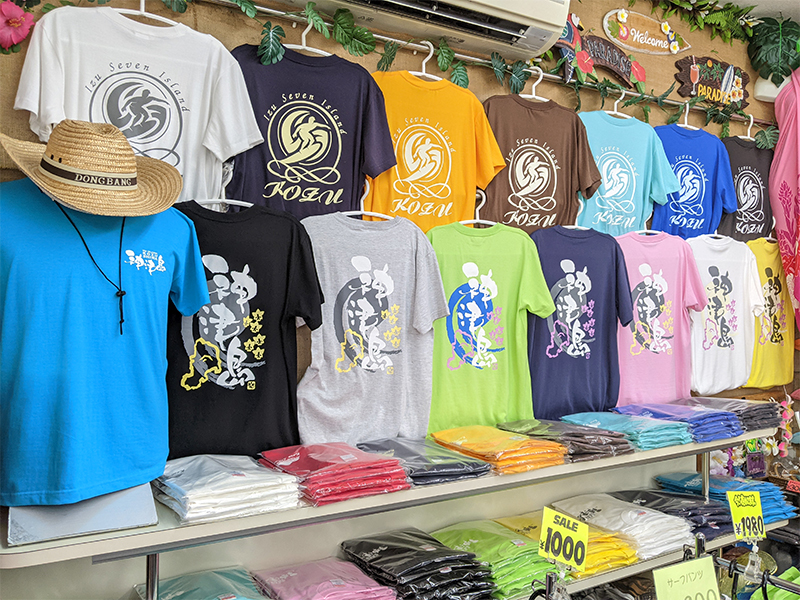 Kuroshio
Kuroshio is located right next to the beach and they offer a great selection of hand-made accessories, original t-shirts, and beach sandals, including some lovely flowery ones that the sixties called about, saying they want them back (we're not giving them back though!). In the food and snacks department, they are proud to offer locally sourced roasted nori (seaweed) that is very popular with the locals, miso (fermented soybean paste) with fresh ashitaba leaves, and soba noodles made with powdered ashitaba. They also have an assortment of classic Kozushima goods like shiokara made from local red squid, noodle-like tokoroten made with red algae, and Moriwaka, a famous barley shochu distilled right here on Kozushima.
They also rent snorkels, so stop by if you're up for some snorkeling in Kozushima's azure seas.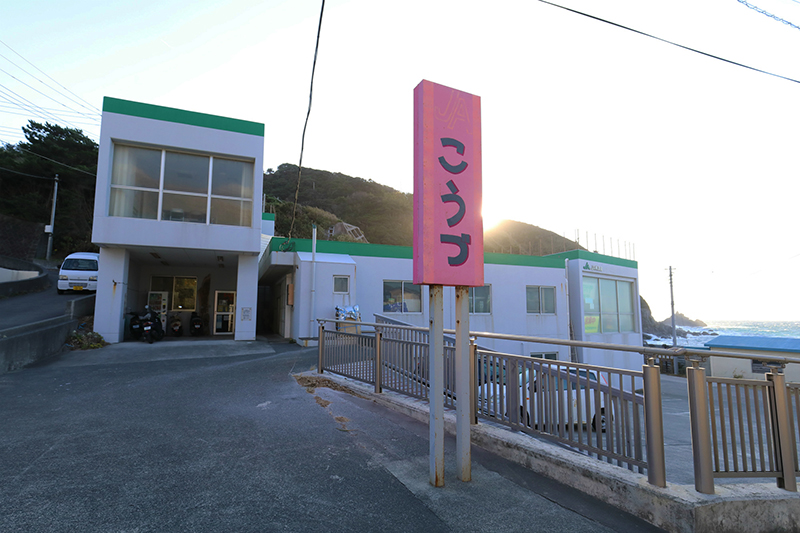 Agricultural Coop Store
While not a souvenir shop per se, the Coop is a must-go place if you wish to buy some local produce before heading back to Tokyo. They always have a great selection of seasonal fruits and vegetables, but some of their best offerings include fresh ashitaba (refreshingly bitter leaves that are a staple of Kozushima cuisine), snow peas, juicy mini tomatoes, and passionfruit. They also sell local delicacies like aburaki-no-moto (a powder you can use to make aburaki, a deep-fried dessert made from sweet potatoes) and tsukudani (vegetables preserved by boiling them in soy sauce and cooking sake). No idea how that might taste? All the more reason to stop by and give it a try!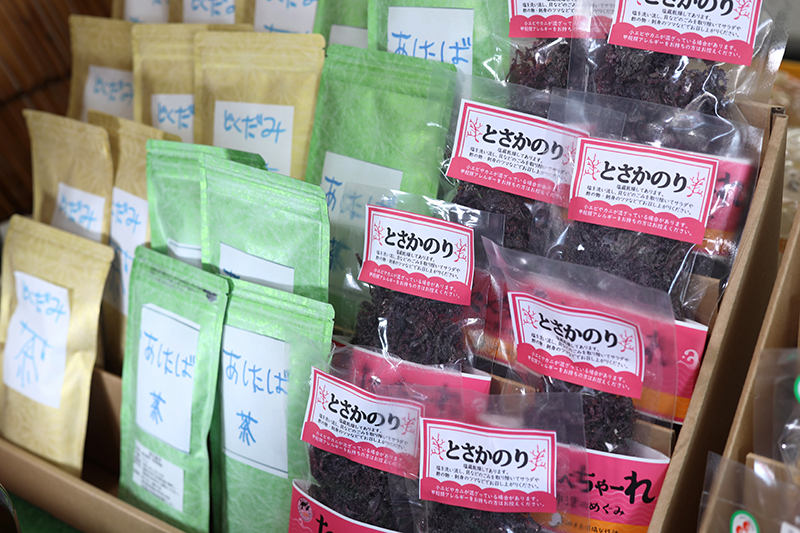 Yocchare Center
"Yocchare!" is the phrase in the local dialect meaning "come over!" That is exactly what you should do at this store/cafeteria! Yocchare's two-storey building is located right inside the Kozushima Port with a store on the first floor and a cafeteria on the second floor (please see the Eat and Drink page for info about this fantastic eatery). The store on the first floor specializes in dried and canned foods made with local seafood—the next best thing after fresh fish, with the added advantage that you can bring it home with you! We can wholeheartedly recommend the dried mackerel scads, and kinmedai (splendid alfonsino), as well as different kinds of dried red squid! Give their shark jerky a try and show Jaws who's the real predator here! They also offer tengusa seaweed, noodle-like tokoroten made with fresh red algae, and sweet potato cakes. And if you feel like sipping on some warm soup back at home, buy yourself some Island Soup Base—a local delicacy that is so popular they even sell it in Tokyo. If you want to take the taste of Kozushima back home, you can't go wrong with Yocchare!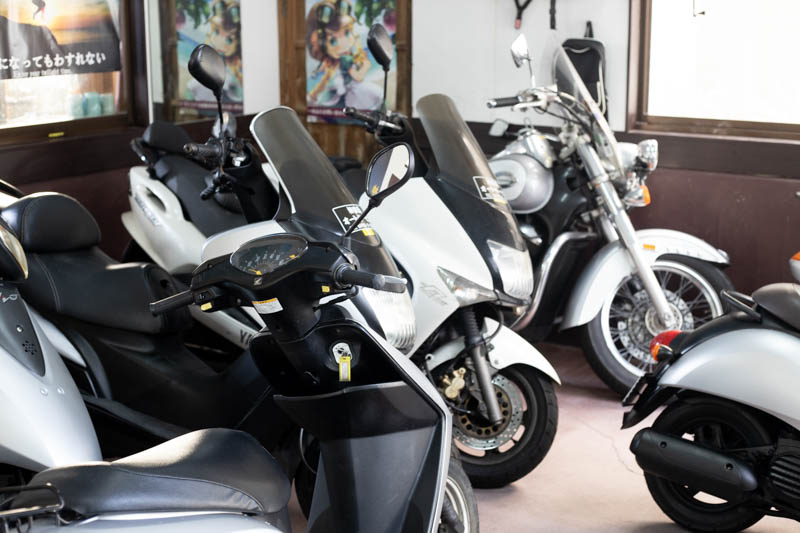 Kozushima Auto Service
"I don't wanna ride the bus…" "Calling a taxi is a drag…" "Rockets are too expensive…" "I don't like walking uphill…" Does this sound like you? Are you that guy or gal who wants to do things their way, and their way only? Well, have we found the place for you! Kozushima Auto Service is one of the few places on the island where you can rent a bicycle or scooter (the gas-powered ones, of course). Simply put, if you have a Japanese license (or an international one), then you can rent one of their scooters and roam freely around the island whenever and wherever you want!
There are 40 bicycles and 40 scooters in total, and they cost 1000 yen and 2300 yen per two hours respectively.
Please note that the island has rather steep hills, so if you would prefer to avoid walking or pedaling uphill, we suggest you rent a scooter instead of a bike. Also, the rental procedure may take a bit more time in the case of presenting an international license.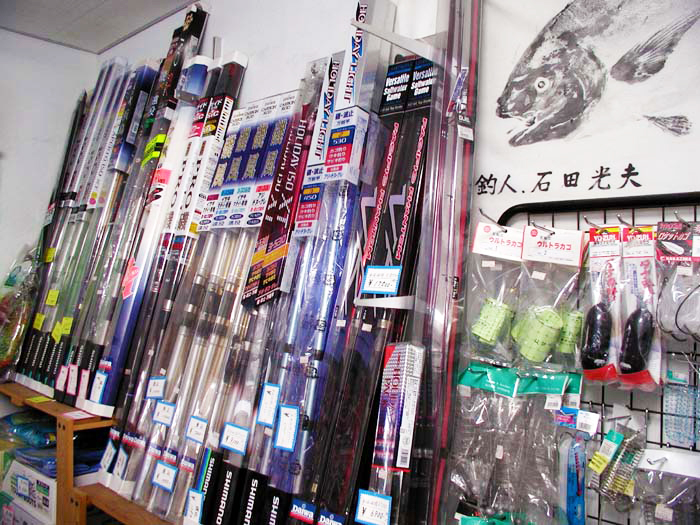 Matsuzen Fishing Gear Shop
You have arrived at Kozushima Airport. The wind is blowing ever so softly, enough to make you forget that it is humid and 32℃. You leave the airport, get in a taxi, head out to town, and arrive at your bed and breakfast. But something just doesn't feel quite right. You turn to your buddy and say, "We have our wallets, smartphones, swim rings, but something feels off…" 
And then it hits you. Your body surges with the sensation you feel when plummeting down a rollercoaster. You begin to sweat, and frantically reach out for it—but it's not there! In utter despair, you fall to the floor and whimper silently "…We forgot our fishing rods…" Amidst all your anguish, the kind front desk staff at your guest house comfort you with words of hope: "Matsuzen Fishing Gear Shop". Instantly, you and your buddy come to your senses and dash off to Matsuzen to rent the fishing gear needed for today's big fishing adventure (fortunately for you, they are open year-round).
Fishing rods with reels cost 2000 yen (bait included!), and fishing rods cost 1000 yen (no bait included). Please note that all rentals must be returned by 4:30 pm (the return time might change depending on the season).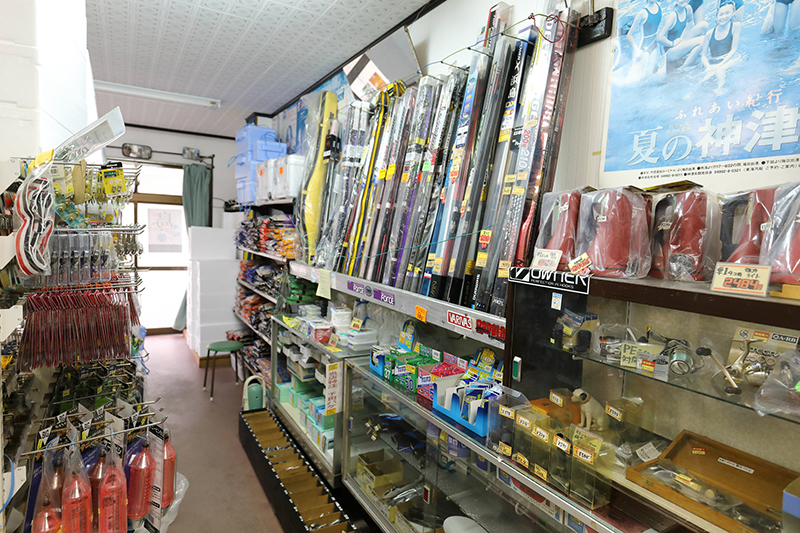 Kozushima Seihyo Fishing Gear Shop
It's 16:00, and you are enjoying the sunset atop Mt. Tenjo with your buddies. Never in your life have you ever gazed upon such a glorious sunset over such a majestic sea. It's getting dark, so you all start heading down the mountain. Halfway down, you look at your watch and notice it is 4:25 pm. You go pale as you shriek, "We won't be able to return our fishing rods to Kozushima Seihyo on time..!".
Leaving your buddies behind, you dash through the lush mountain trail and make it to the road panting and sweating. You call your guest house and ask the front staff for help, and they say "Seihyo Fish Gear Shop is open till 8:00 pm, and returns are available until 6:30 pm". While rejoicing you return the fishing gear on-time, saving both you and your fellow foreign tourists' reputation!
If you are a serious fisher and want to enjoy fishing for a couple more hours in the evening, then be sure to check out Kozushima Seihyo Fish Gear Shop's rental service while in town!
Kozushima Seihyo Fish Gear Shop is just a five-minute walk from Kozushima Port, located next to Kozushima Auto Services, and is very welcoming of both Japanese and foreign guests!
Please note that all rentals are to be returned by 6:30 pm.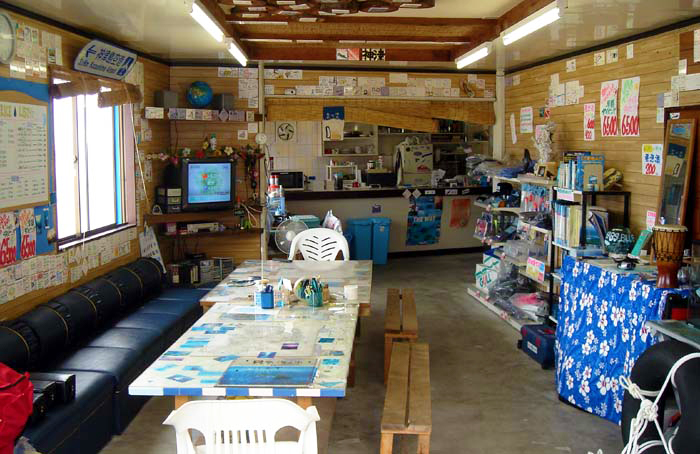 Tears Blue Diving
Located just a few steps away from Maehama, Tears Blue Diving is one of the more accessible diving shops on the island. Not only do they provide beginner and advanced diving tours and gear rentals, they also have equipment for snorkeling and bodyboarding, and even rent out inner tubes to play with in the water! Early morning and late evening diving tours are also available for those who have a diving license, and require a minimum of two people per lesson/tour. Tear Blue Diving recommends going on early morning diving excursions from July through September, and late evening excursions from May through October.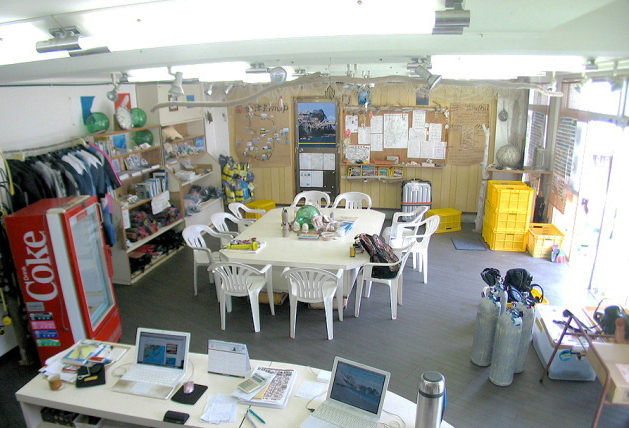 Nangoku
Nangoku is conveniently located only a few steps away from the island's number one beach, Maehama! And not only do they provide diving lessons and tours, they also would love to introduce to you the culture, captivating nature, and delicious food that can be found here on Kozushima! Whether you are a beginner or pro, young or old, Japanese or not, Nagoku will welcome you with open arms.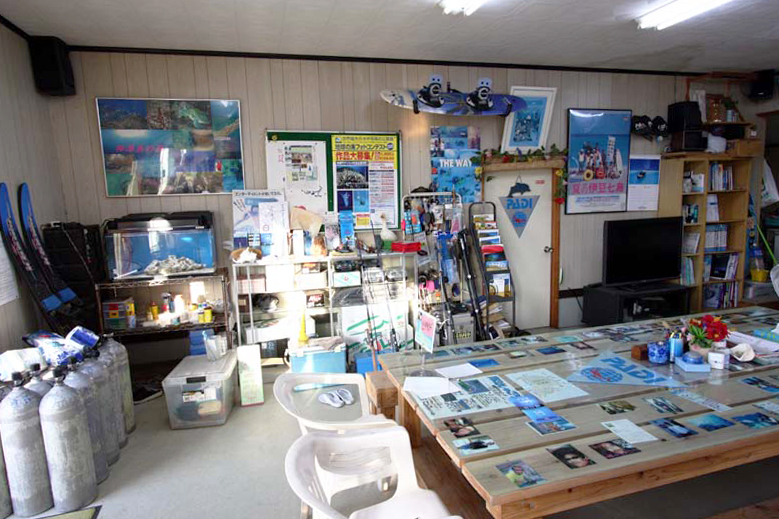 Aqua Mate Diving Club
Aqua Mate Diving Club is about a five-minute walk from Maehama, and a 20 minute walk from Kozushima Port, situated right next to the island's one and only 100 yen shop, Can★Do. In addition to diving, they are also very happy to take you around to see the island's sights! With help from their enthusiastic and professional diving staff who love their home, its stunning ocean, and nature, you will see a side of Tokyo Prefecture you never imagined!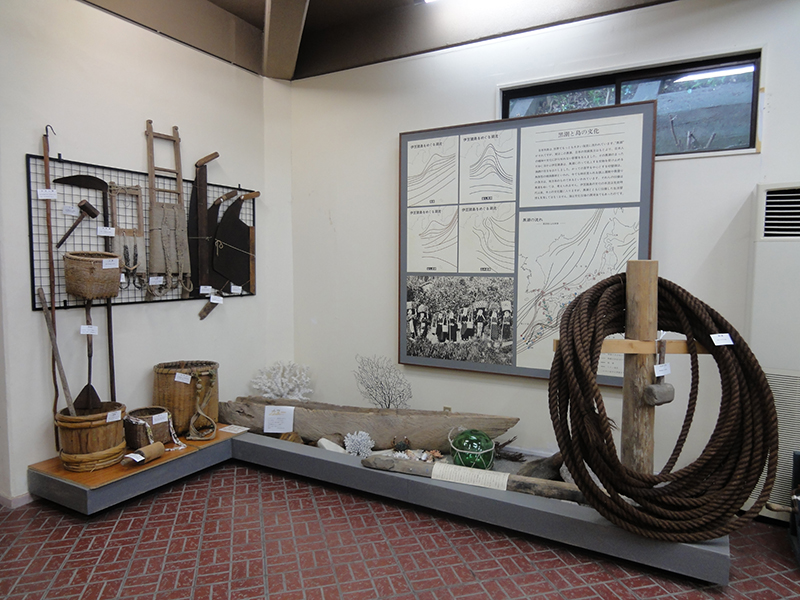 Kozushima Island Local Museum
The island's one and only museum is also located conveniently in town, and preserves a variety of the island's cultural and historical assets. Here, you will find rare archaeological artifacts which are referenced in the island's mythology, literature that tells of Kozushima's history, and many other kinds of ancient documents that give us a glimpse into the island's past. If history and ancient culture is your thing, then it might be worth your time to stop by and take a look at what the island was like many years ago! Please note that services are only available in Japanese.
ATM & Post Office
You can find WiFi in the following locations across the island.
Kozushima Post Office
One of two places on the island with an ATM. Please note that the ATM is only available during certain hours.
Shinkumi Bank
One of two places on the island with an ATM. Please note that the ATM is only available during certain hours of operation.
WiFi
You can find WiFi in the following locations across the island.
Kozushima Hot Springs Recreation Center